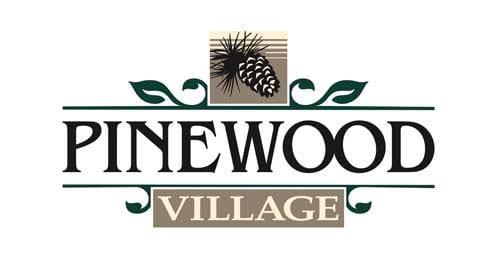 Located in Arbor Vitae, WI in the center of the popular Northwoods vacation destination of Minocqua.
Pinewood Village is a charming community set amidst the towering pines and lush wooded vistas that will be yours to call home. The great Northwoods is at your doorstep with nature's finest recreation amenities including hiking, camping, snowmobiling. Water enthusiasts will love the fishing, swimming, boating, water skiing in Lakes Minocqua, Kawaguesaga, Tomahawk and Patricia just to name a few. A short drive to Minocqua brings you the convenience of entertainment, shopping and fine dining. Enjoy neighboring local parks including Bearskin Trailhead Park and experience the awe and majesty of Nature that is yours for the viewing in a number of scenic State Forests that surround you.
Pinewood Village is a respite for those seeking the good life. There is also the convenience of a storage facility available on site for residents with unit rental costs based on size, for your boats, snowmobiles or whatever else you want to store. More summer fun can be found at the clubhouse and swimming pool located at our sister community for all residents of Pinewood Village to enjoy.
Street Address:  
1325 Old Hwy 51 S
Arbor Vitae, WI 54568
Office Address:  
8914 Mossy Oak Drive
Woodruff, WI 54568
Phone: 715-439-4086
Cell: 715-614-2819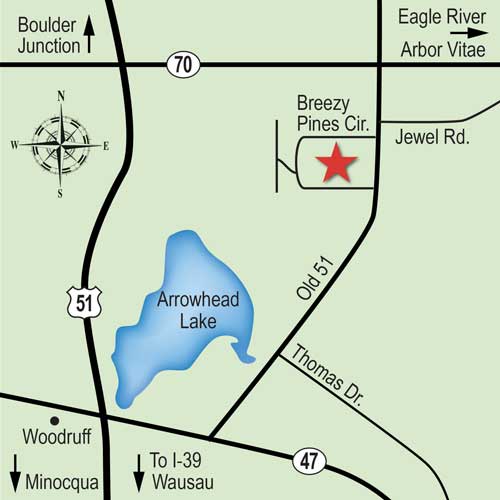 Area Map
(click to enlarge)
Currently Available Properties In Pinewood Village:
GORGEOUS & SPACIOUS 2 BED, 2 BATH HOME - MOVE IN READY!
Area Photos
(click to enlarge)